Toledo teams take the next step in their analytics journey with StellarAlgo
Toledo, OH – StellarAlgo is proud to announce their partnership with the Toledo Walleye, the Detroit Red Wings ECHL affiliate and the Toledo Mud Hens, Triple-A affiliate of the Detroit Tigers. The Walleye and Mud Hens are using StellarAlgo's Customer Data Platform (CDP) to better understand their fans through data-driven initiatives.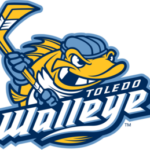 "We pride ourselves on being strong community leaders in the Toledo region and we are committed to investing in areas that will help us better connect with our fans," stated Toledo Walleye Executive Vice President & General Manager Neil Neukam. "We hear from colleagues on the positive impact StellarAlgo has had in our industries and we are excited to be working with them to drive revenue."
It's no secret that the sports industry is trying to get smarter about how they personalize and connect with their fans. StellarAlgo's Customer Data Platform organizes and aggregates various fan data sets and predicts future behavior based on machine-learning models. These automated insights allow sales and marketing teams to better understand their fans – and personalize how they interact with and nurture.
"We felt this was the time to take a step back and evaluate how we use the information we have on our fans.  What we discovered is that we have great information, but it is siloed in many different systems," said Erik Ibsen, Executive Vice President and General Manager Toledo Mud Hens. "We are looking forward to having StellarAlgo bring this information together to make it easier for us to better serve our customers. Our goal remains to be a best-in-class organization in the sports and entertainment industry and partnering with StellarAlgo is another step towards achieving it."
"The Toledo teams have an ambitious long-term vision for using data to better understand their fans and connect even more deeply with their community.  We love working with organizations like this because it aligns so well with what StellarAlgo stands for," said Megan Kurcwal, StellarAlgo's Director of Sales & Marketing. "It's encouraging to work with teams who recognize how important it will be to win fans back after the current disruptions and both the Walleye and the Mud Hens are positioning themselves in a great way. We're excited to be part of their data-driven journey and look forward to building a strong, long-lasting relationship."
StellarAlgo's customer data platform uses machine-learning technology to enable live audience organizations to gain valuable insights and thorough understanding of their fan universe. The platform's predictive capabilities allow organizations to understand customer propensities for products and events while also unlocking the why behind conversion. StellarAlgo works with major and minor league sports franchises along with live annual events, concerts, museums and more.
For more information, please visit www.stellaralgo.com.